Peptide Replump Set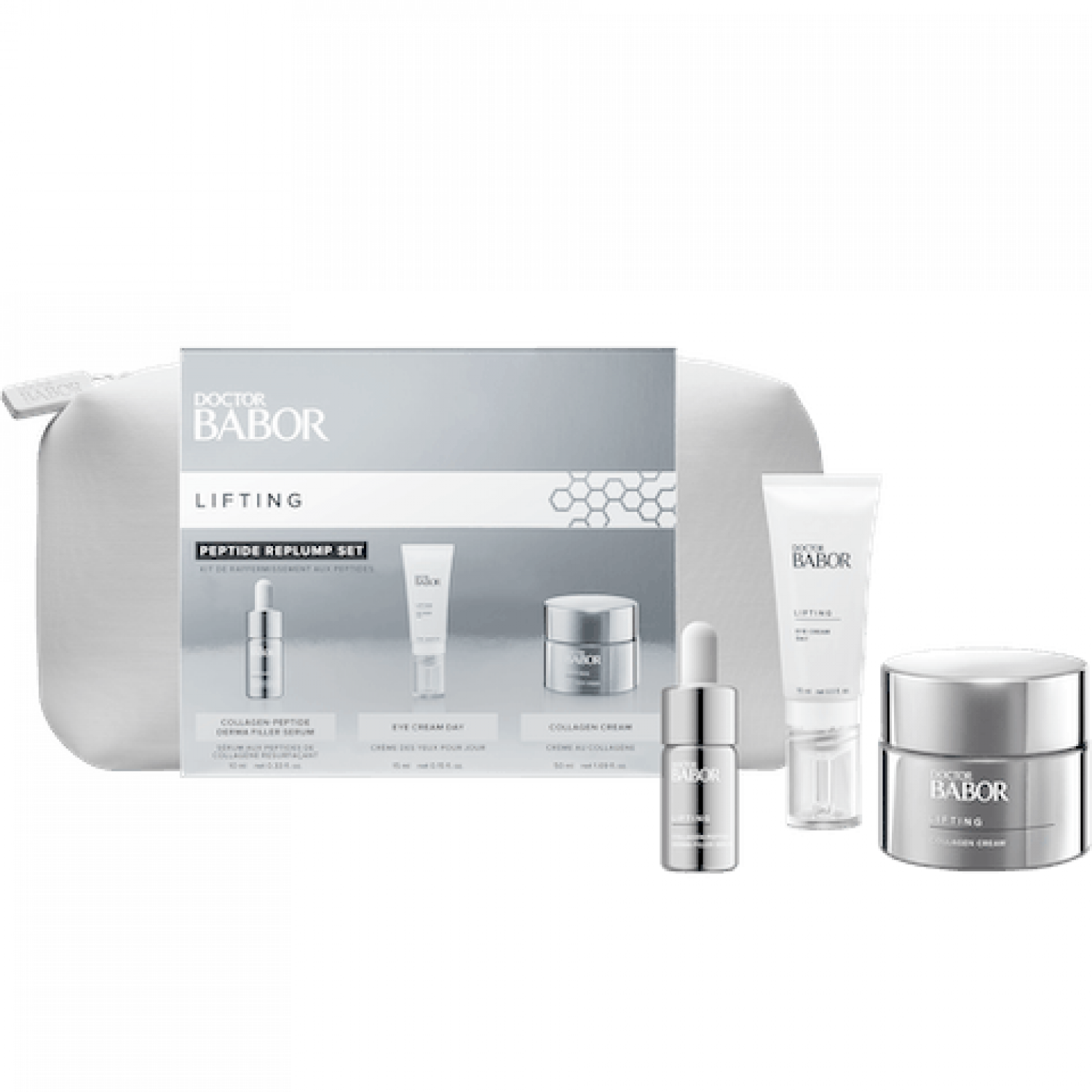 New TOP


Limited set for visibly smoother skin and a youthfully plumper-looking complexion. 
The highly efficient LIFTING routine creates instantly smoother and plump-looking skin thanks to the precise-acting combination of active ingredients.
Papild informācija
Ieguvums
COLLAGEN-PEPTIDE DERMA FILLER SERUM: Vegan, plant-based collagen complex: stimulates collagen synthesis to help trigger the full spectrum of the four collagen families for a firmer, bolstered complexion. Low-molecular hyaluronic acid reinforces the skin's protective barrier, increases its moisture balance, and reduces transepidermal water loss, which has been shown to reduce wrinkles and improve skin texture. EYE CREAM DAY: A complex of niacinamide, caffeine, and pigments increases the luminosity of the eye area by optimizing the microcirculation in the skin tissue. The sensitive area around the eyes is protected against redness, and fine lines and wrinkles are visually concealed. Palmitoyl tripeptide-5 restructures the collagen fiber network into a dense, uniform structure and improves skin density and firmness. Hyaluronic acid and Lactil nourish the skin with intensive hydration—for a smoother, radiant area around the eyes. COLLAGEN BOOSTER CREAM: The formula with 5% active ingredient complex consisting of tripeptide 2 and 5 stimulates the skin's own collagen production and prevents the skin from aging. Elasticity and skin density are improved, and the loss of tissue firmness is reduced. This makes skin appear visibly firmer. Contours are firmed up, and skin looks smoother, plumper, and more even. Thanks to a 3% solution of highly effective protective marine collagen, the cream stimulates the skin's natural regeneration process, improves its elasticity, and rejuvenates the complexion. Hyaluronic acid provides intense hydration, plumps the skin, and gives it added firmness. Fine wrinkles are reduced, and the complexion appears smoother and plumper. 9% nourishing, soothing, and regenerative oils from macadamia, sesame, and avocado nourish dry skin, restore the skin barrier, and reduce transepidermal water loss. Provitamin B ensures better balanced skin and reduces redness and irritations. Vitamin E combats free radicals. The regenerative and calming Provitamin B5 reduces redness, stabilizes the skin barrier, and hydrates the skin. Vitamin E softens up the skin and repairs it. It combats free radicals as an antioxidant. The natural skincare oil Squalane (4%) retains the skin's moisture, smooths out small wrinkles, reduces redness, and makes the skin silky smooth for a glowing complexion. It soothes dry skin and leaves a pleasant feeling.
Lietošana
COLLAGEN-PEPTIDE DERMA FILLER SERUM: Apply daily after cleansing and allow it to be absorbed. Follow with an application of skincare cream. EYE CREAM DAY: Apply to the eye area in the morning after cleansing. Gently pat in with your fingertips and apply your usual eye make-up. COLLAGEN BOOSTER CREAM: Apply mornings and evenings after cleansing to the face, neck and décolleté. Lightly massage into the skin.